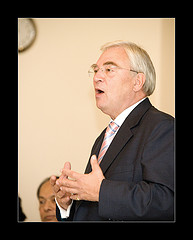 I am committed to making London the safest big city in the world for everyone who lives, works and visits here.
Some services affect each and every one of us: policing, and the provision of law and order, is one of those services. A sense of security when we walk the streets of London, when we leave our homes, when we stand waiting for a bus, or travelling on the Underground, has a direct impact upon our quality of life. Since 2008, London has got safer, with the number of reported crimes falling (down 9%). London is a safe place, and a place of safety, but we need to ensure that particular issues are addressed. Dangerous/status dogs need to be taken off the streets, youth crime and public disorder need to be minimised.
There are many stakeholders in making our communities a safer place to live – most notably the Metropolitan Police, the London Development Agency, Transport for London and the London Fire Brigade, all of whom provide an invaluable service to Londoners.
The Metropolitan Police service has a regional, national and international role and reputation. As an administration, it is part of our responsibility to work to enhance and sustain that reputation and professional standing. It adds to London's international reputation and helps encourage both inward investment and tourism, a significant part of London's economy.
At the GLA, we have done a number of things to make London safer since May 2008:
We have taken 9,000 knives off the street and notifiable offences are down 9%;
The Mayor is committed to addressing the root causes of youth violence through the Time for Action scheme, which seeks to give the young people of our city more alternatives to the choices of crime and violence. We have opened the Heron wing at Feltham Young Offenders' Institution to identify young people who can be diverted away from crime, and out of a life of crime. It has been very successful, reducing significantly re-offending profiles.
We have banned alcohol consumption on public transport, brought in 50 new British Transport Police Officers and 440 new PCSOs to patrol the transport network;
We have increased funding for Rape Crisis Centres and plan to build three more, highlighting our commitment to end violence against women;
The Mayor has pledged to make London's police service more accountable to Londoners.
I am committed to working for fair allocation of police resources for outer London; supporting good policing strategies and innovation such as problem orientated policing; and supporting community safety through good design and crime prevention. In Hillingdon, I work closely with the local Council to ensure that residents' priorities are reflected in our local policing approach.